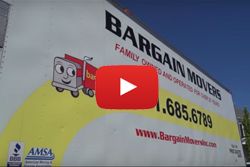 Established in 1982 and located in Gaithersburg, MD. Bargain Movers is one of the most trusted local moving companies. We have helped relocate families in Rockville, Germantown, Frederick, Silver Spring, Bethesda, Potomac, Montgomery County, Maryland, Virginia and Washington D.C. We have provided high quality service to our clients for over 3 decades. Our goal is simple; assist our customers in creating a stress free local or long distance move customized to fit both their needs and budgetary requirements.
We recognize that job of relocating families involves much more than just moving furniture. It is the understanding that a families household goods represent some of their most valued possessions. Therefore our employees are trained to be extremely careful, respectful and understanding of our client's needs. We pride ourselves on up-holding these values, which is one of the reason we have built a strong loyal client base for over 30 years.
Our Track Record!
Mission Statement for Bargain Movers
Our mission is to provide the best sevices without any hassle regarding Moving, Packing or Office Relocation . Bargain Movers has been family owned and operated for over 30 years. The company was originally founded by Luis Cardenas Sr. who graduated from Tulane School of Law in 1955. He founded this company based on the principle that he could provide good quality moving services and give back the community.
Updater
Updater makes every aspect of your moving process easier. Bargain Movers provides this time-saving feature free of charge to help you organize and complete your moving-related tasks in minutes.